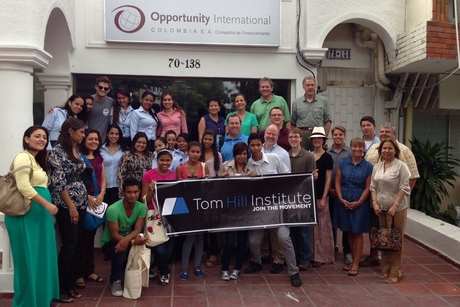 One out of every two people on this planet struggles to feed and educate their children. When powered by opportunity, they have a chance to work their way out of poverty and transform their lives. For 40 years, Opportunity International has provided the savings, loans, training and insurance that all people need to create a better future for their families and their communities.
About this project
The Tom Hill Institute and Opportunity International are partnering in Colombia to help build a nationwide finance company that offers loans, savings, insurance and training targeted at underserved Colombian entrepreneurs. These services will equip families with the training and financial resources that they need to educate their children, grow their businesses and reinvest in their communities. Training programs provides transformation services alongside these that address spiritual needs in the community.
Millions of Colombian families struggle to overcome poverty and improve their lives. Rampant poverty and lack of access to financial services prevent families from managing their day-to-day needs and planning for the future. Sixteen percent of Colombia's population struggles to survive on less than $2 per day, while microfinance only reaches 2.5% of the total population.
To learn more, visit the Tom Hill Institute.
Your support will help
Over half of Colombia's population remains outside the formal labor force. While Colombia's economy has experienced a small rate of growth in recent years, inequality, underemployment, and narco-trafficking remain significant challenges, and roughly half of Colombia's population lives beneath the poverty level. We are launching Opportunity's first deposit-taking institution in Latin America, providing tailored solutions to urban poverty and more geographically remote areas.

By contributing to this initiative, you are helping to expand access to financial services so that more people in Colombia will be able to secure their savings, borrow capital for their businesses, and receive training to develop business and life skills. With your help, we can empower people to work their way out of chronic poverty, transforming their lives, their children's futures and their communities.